Garden – Stanislav Čepička
The steep limestone and tufa garden built above rotten schist or slate is very famous in springtime for its unique collection of dwarf bulbs grown outdoors without protection. Stanislav loves are Juno Irises. This hot rock garden enjoys full sun all day. It is in a steppe part of the relatively dry limestone area called Czech Karst so the owner of the garden must water it quite often. Half of the all rock work are local limestone stones placed in vertically converted layers connected with very natural limestone grit screes or fine top dressing. The second half of the rock garden is made from local soft travertine stones (boulders), which English-speaking gardeners called tufa rock. It is probably the largest travertine outcrop in the Czech Republic. This local soft travertine is bizarre in shape and Stanislav is the master of assembling smaller stones into high compact ridges. The dense system of ridges has its purpose: to get plenty of places facing to the north for growing true alpine plants that hate the scorching sun. The southern aspect here is fine for plants from Turkey, Central Asia, and the Balkan. Gentiana angustifolia loves heavier soil among wet bodies of tufa boulders so you can see here thousands of deep violet-blue trumpets in May.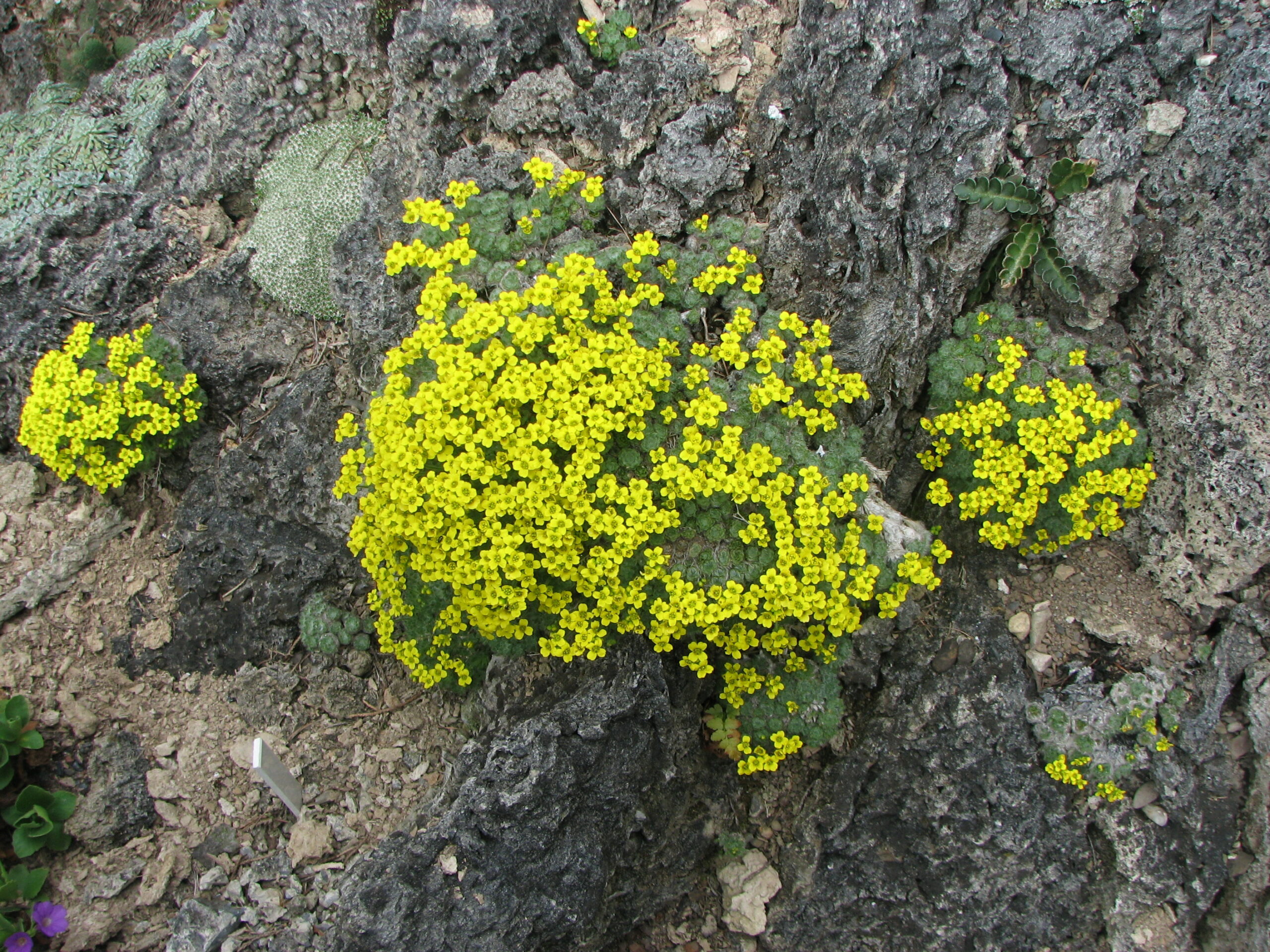 Lovers of the small cushion plants will see a broad assortment of Androsace, Acantholimon, Phlox, and dwarf yellow Linum. Very pretty are dense cushions, mats, and domes of Arenaria and Gypsophila connecting the stones and decorating ridges all the year-round. Stanislav Čepička has a trial garden for many new introductions (he has always fresh seeds from Czech famous seed collectors and he has green fingers for dealing with seedlings). One example of the successful trial is the blooming new dwarf Edraianthus pilosulus, Edraianthus sutjeskae and E. pulevicii from Monte Negro.  Very young seedlings are planted into drilled holes only 10 mm broad with eastern exposure.