Zdeněk Zvolánek (The Czech Republic)
Committee member
Amazing Flowers from Dinaric to Kurdistan Alps
The speaker is a retired architect rock gardening at Beauty Slope in Czech Karst, village Karlík near Prague. He is an internationally recognized lecturer, horticultural writer, Prague Show Arranger, and the editor of two journals. He is known as an apostle preaching crevice gardening but he was known as a keen seed collector and mountain explorer from 1980. He is the second Czech plantsman who was awarded the Lyttel Trophy by the AGS  in 2021.
Dinaric Alps is a big limestone mountain chain running from Albania through Montenegro and Bosnia towards Croatia. This area is rich with crevice-loving plants. From those charming peaks, we will see the best rock garden plants from Slavonic Bulgarian and Greek Macedonia. proper admiration of limestone-loving plants, we have to see limestone ranges of the West and East Anatolia. The Alps of Kurdistan in Eastern Anatolia are offering true alpines but also excellent high steppe plants for hot and dry gardens. The speaker explored the Bulgarian mountains from 1975 and Kurdistan from 1985 so his knowledge of plants in nature and cultivation is outstanding.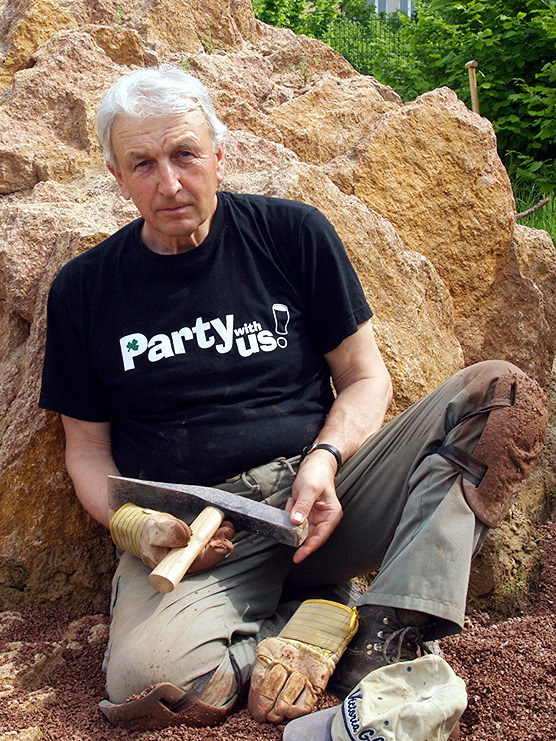 ZDENEK ZVOLANEK – LYTTEL TROPHY WINNER 2020
By Robert Rolfe, England
A cohort of Czech rock gardeners has had a profound influence on modern-day alpine gardening throughout the last quarter of the twentieth century and on to the present day, in all its facets, from constructing significant rock gardens, traveling to hitherto botanically underexplored mountains, disseminating important plant introductions and selections, and spreading knowledge through their influential writings and lectures. Among them, Zdeněk Zvolánek's influence has long been of crucial importance.
Over 50 years he has ventured widely, often idiosyncratically, his work with the national railway at first making European travel possible, but soon his travels took in NW USA and the Balkans (where he has an expertise in the recently described species of Edraianthus from Slovenia and Montenegro). Turkey has been an enduring focus since the autumn of 1986, when he made a marathon trip overland to the heights of the Ala Daǧ in order to re-introduce Draba acaulis, which had long since died out from Peter Davis's original gathering. He did so after receiving advice from Jim Archibald, and has returned at least a dozen times, sometimes to mountains whose plants' horticultural potential was pretty much unknown, on other occasions to those familiar since the time of Boissier. Even where others have trodden before, he has still managed to come up with novel introductions, as with Armeria trojana, Chamaecytisus gueneri and Silene bolanthoides from north-western Kaz Daǧ (Mt Ida).
Famously, he has built numerous crevice (and occasionally sand) gardens, deploying the highest levels of craftsmanship, in North America, Scandinavia, the Czech Republic, Germany and the UK. RHS Wisley and the AGS Pershore garden boast examples of his work. Appositely, he is author of the AGS publication The Crevice Garden and its Plants (2015), a distillation of his skills. As readers will know from his article in last September's issue of The Alpine Gardener, he has converted an old quarry at Karlík, near Prague, into a 'beauty slope' rock garden, demonstrating his ability to fashion rock gardens from the most challenging of sites.
The scope and enterprise of such journeyings is repeatedly awe-inspiring. Taking just one example, in 1996 he undertook a Colorado lecture tour, and on Mt Goliath (at just over 3 500m, en route to Mt Evans) constructed a rock garden, planted exclusively with native species – a strong contender for the title of the world's highest altitude alpine garden.  A friendship with Panayoti Kelaidis in Denver led to his participation in a couple of public 'steppe summits', and to listings of his introductions in the Rocky Mountain Rare Plants seed list, where little-known species of Acantholimon, as well as rarities such as Alyssum caespitosum, Convolvulus compactus, Dianthus brevicaulis and Thlaspi kurdicum were made available. These have often taken surprisingly well to cultivation in skilled hands, underlining the importance of the Turkish alpine (rather than simply its bulbous) flora.
What must also be emphasised are his extensive, ongoing organisational and editorial skills. He masterminded the first Czech International Conference at Beroun in 2007, has been one of the chief arrangers of the Prague Show for as long as anyone can remember, and has been a prominent member of the Prague Rock Garden Club since the 1970s. On top of all this, he edits that organisation's quarterly journal Skalnićky, contributes numerous articles under several aliases, and is also co-editor of the online SRGC monthly publication The International Rock Gardener. His contributions have been multifarious, continuously fashioning and refocusing the course of alpine plant studies and cultivation for many, many years.