Plants from all continents in the arctic-alpine rock garden in Tromsø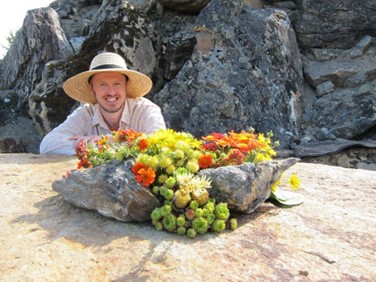 Martin Hajman is a gardener in Tromsø Arctic-Alpine Botanic Garden – part of The Arctic University of Norway… far north above the arctic circle. Before moving to Tromsø he was working as a head gardener and curator of the historical alpine garden at Botanic Institute in Pruhonice (UNESCO site) as well as runna ing small nursery. Member of Prague Rock Garden Club and learned there from the master members. Co-founder of The Czech Association of Perennial Growers. In Tromsø BG – cultivating difficult and rare alpine plants in large rock landscapes and joining rock-work with  Bjørn Thon – the man who made Tromsø BG into a rock landscape.
Plant interests: focus on high altitude alpines including the rich genus of Saxifraga , Cremanthodium, Meconopsis, Gentiana, and Primula, etc.
Botanical Trips: alpines of Pirin, bulb and alpine paradise of Turkey, Syria, and Jordan mountains. Peonies paradise of Georgia and vulcanic alpines of Armenia. Cape alpines of South Africa and Alpine plant paradise of Tibet. 
And always enjoying high alpine species growing along the sea coast of Tromsø.