Plants from all continents in the arctic-alpine rock garden in Tromsø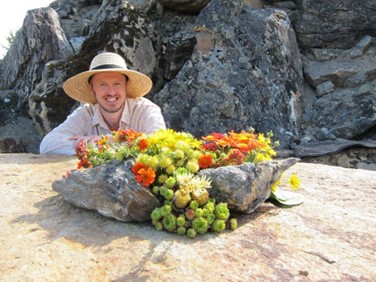 Martin Hajman is a gardener in Tromsø Arctic-Alpine Botanic Garden – part of The Arctic University of Norway far north above the arctic circle. Before moving to Tromsø he was working as a head gardener and curator of the historical alpine garden at the Botanic Institute in Pruhonice (UNESCO site) as well as running ing small nursery. As a member of Prague Rock Garden Club, he learned there from our master members.  He is a co-founder of The Czech Association of Perennial Growers. In Tromsø BG – cultivating difficult and rare alpine plants in large rock landscapes and joining rock-work with  Bjørn Thon – he is the man who made Tromsø BG into a rock landscape.
Plant interests: focus on high-altitude alpines including the rich genera of Saxifraga , Cremanthodium, Meconopsis, Gentiana, and Primula, etc.
Botanical trips: alpines of Pirin, bulb and alpine paradises of Turkey, Syria and Jordan; peonies of Georgia and volcanic alpines of Armenia; the Cape alpines of South Africa; and the Alpine plant paradise of Tibet. 
And always enjoying high alpine species growing along the sea coast of Tromsø.